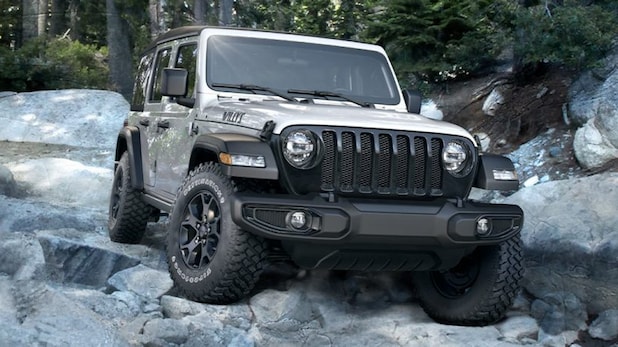 New Jeep Wrangler Inventory
Looking to get away from the rest of society for a bit? We don't blame you, as social distancing is still an important part of everyday life. With the Jeep Wrangler, the ultimate social distancing vehicle, this is made possible! Allow our Durocher Chrysler Dodge Jeep Ram dealer in Plattsburgh to explain how this vehicle can safely get you and your loved ones away from the crowds and to an entertaining and more peaceful place in the form of the Adirondack Mountains.
Explore the Adirondack Mountains in a Jeep Wrangler
If you've already had the opportunity to visit the Adirondack Mountains, we're sure you know all that it has to offer, but if not, we are here to explain why it may just be the most ideal and enjoyable social distancing area around Plattsburgh.
Being made up of over 12 distinct regional destinations that each offer their own brand of adventure in the form of canoeing, kayaking, bicycling, hiking, diving, skiing, etc, the Adirondacks are the epitome of family fun and entertainment. Featuring over 100 friendly and welcoming communities, a variety of iconic mountains, mesmerizing lakes, verdant valleys, and steep cliffs, the Adirondacks span more than six million acres. If you're looking to traverse this area properly, however, you will want to be behind the wheel of a vehicle that is highly-capable and safe. That's why we recommend traversing the Adirondacks in a Jeep Wrangler, an SUV designed for peak performance both on- and off-road, and can take you virtually anywhere you would like.
The Jeep Wrangler's heroic off-road capability, exceptional ground clearance, and protective underbody skid plates allow motorists to conquer treacherous and unfamiliar terrain that the everyday vehicle simply couldn't fathom exploring. It's the only vehicle on the market today that provides you with the maneuverability to travel tight trails or navigate around rocks or fallen logs with precision steering. Finally, with the choice between three unique 4x4 systems, the Jeep Wrangler will help you handle the most unpredictable road- or off-road conditions.
Test Drive a Jeep Wrangler in Plattsburgh
If you're interested in hearing more about this model or another new or used Chrysler, Dodge, Jeep, or Ram, please don't hesitate to contact us here at Durocher Auto Sales, which conveniently serves the Plattsburgh, Malone, and Morrisonville areas. We can get you penciled in for a test drive in the Jeep Wrangler of your choice and have you ready to conquer unfamiliar territory in no time!
New Jeep Wrangler Inventory