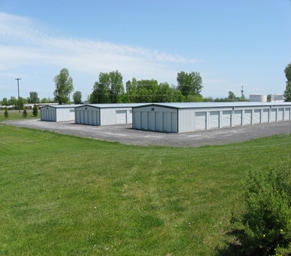 Although we are known for carrying a great selection of quality Chrysler, Dodge, Jeep and RAM models, our car dealership also provides self storage for our customers of the Morrisonville area!
We offer:
Free use of hand carts
Rental insurance
Boxes, packing tape
Pad locks
Mattress covers
Gloves
Pallets available
24/7 access
Unit Sizes 
5' X 10' 50 square feet. A couch and chair, chest of drawers or dresser, mattress set, plus small items and boxes. Outdoor furniture, lawn mowers, garden tools, etc. Bicycles and/or motorcycles.
10' X 10' 100 Square feet. Furniture from one bedroom without appliances, including small items and boxes. Year end files, manufacturer's samples, mobile equipment.
10' X 15' 150 Square feet. Furnishings from a two bedroom apartment or small house, plus small items and boxes. Year end files and office equipment, excess inventory, hospital/legal records.
10' X 20' 200 Square feet. Furniture from a two bedroom house with appliances, miscellaneous items and boxes. Also may be used to store a car or truck. Year end files, excess office equipment, office furniture, maintenance equipment, seasonal decorations, general business equipment.
Storage Tips
Use furniture drawers for small delicate items and specially wrap and label them as "FRAGILE". Bubble wrap and packing paper are excellent for these purposes.
When packing toys or smaller objects, remember to fill boxes completely, stuffing open areas with plain newspaper to prevent collapsing when stacked.
Be careful not to store anything combustible, such as paint, and chemicals, or perishable items.
When storing lawn and garden equipment, drain any fluids prior to storage to avoid corrosive damage.
Use trash cans to store shovels and rakes. Always use high quality locks on your unit. Locks are available for sale. Just ask your site manager for a recommendation.
When storing delicate heirlooms, use specially constructed boxes, such as wardrobe boxes, and utilize dehumidifiers to prevent mildew build up. Remember to label these boxes "FRAGILE".
Store furniture carefully on boards or pallets.
Mattresses should be covered and stored flat on level surfaces.
Break down items such as table legs, and store tabletops and sofas on end, to save space.
Use protective covers and treat wood surfaces before storing.
When storing business files and inventory, label all boxes and construct aisles so files are easily seen and accessible.
Utilize Durocher Self Storage Near Morrisonville
Whether you're purchasing a new RAM model, or are interested in our self storage options, our car dealership near Morrisonville is here to assist you with all of your needs!
Come on over to Durocher Chrysler Dodge Jeep RAM today, or feel free to contact us at (877) 862-9764.