2021 Ram 1500 Quad Cab
Starting at $189/month for 36 months 10k mile lease, Cash due at signing $4,819
See Dealer for details
2021 Ram 1500 Crew Cab
Starting at $259/month for 24 months 10k mile lease, Cash due at signing $4,979
See Dealer for details
2021 Ram 2500 Crew Cab
Finally In Stock!
See Dealer for details
Motor Trend's Truck of the Year Three-Peat.
It's never been done before. Ram's astonishing pickup truck dominance is the new normal. The 2019 Ram 1500, 2020 Ram Heavy Duty, and 2021 Ram 1500 TRX are Ram truck's brand answer to any doubt of just how good these trucks surpass the competition.  Proven dominance in the light-duty and heavy-duty pickup realms that is downright unique. Unique just like Ram 1st in the market; Box Management .
The Ram Toolbox is an essential tool to make taking care of your Ram Brand vehicle as easy as possible. 
Schedule dealership service visits, manage your maintenance records, find special offers, contact Roadside Assistance, safety notices, recall information, and more-right at your fingertips. With an active Uconnect® subscription, you can take your ownership experience even further with the Uconnect® app. Stay connected to your vehicle, use remote commands, and access much more-all through your smartphone or smartwatch. Simply download the app to yourApple or Android device, log in using your Mopar/Uconnect username and password, and get started.
Ram TRX is on the way, and it's all about the numbers! 
Start with 702 horsepower, 65 LB-Ft of torque, 4.5 second 0-60 mph time, 6.2 Supercharged Hemi, 11.8" ground clearance, 13" front suspension travel with 14" rear suspension travel all wrapped around more numbers. Try 8 different drive modes. Sport, Snow, Custom, Mud-Sand, Rock, & Baja. No need to go to a custom shop to make it yours, Ram has already done that for you. Let's Ride!

Introducing Stellantis!
---
PSA Group and Fiat Chrysler Automobiles (FCA) have officially merged to create Stellantis, bringing together 14 vehicle brands across the globe. With the completion of this merger that has been in the works for more than a year, Stellantis becomes the fourth-biggest automaker in the world by volume and third-biggest by revenue. Now under the Stellantis umbrella are Chrysler, Dodge, Jeep, Ram, Fiat, Alfa Romeo, Abarth, Lancia, and Maserati-thanks to FCA-as well as Citroën, DS, Opel, Peugeot, and Vauxhall, thanks to PSA. Growing together to meet the challenges of the future!
Buy with confidence. 
We provide free Carfax reports with all our used vehicles. Research our pre-owned vehicles today. You can check for accidents, resale value, maintenance records, original window labels, number of owners, open recalls, and vehicle use. This is just another item offered with The Durocher Difference! Ask your salesperson today.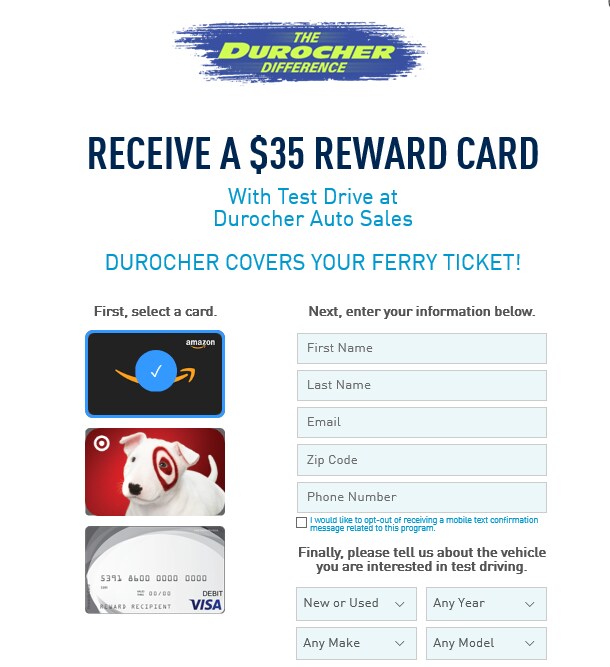 So maybe you have shopped on-line and found the perfect vehicle. 
You have already researched your vehicle trade in values, and you should have checked out purchasing compared to leasing, and all from home. Take it a step further and submit your credit application, send us a copy of license, registration, insurance cards, and find your title. Now let's schedule the test drive. Our staff will make sure its sanitary to COVID-19 requirements, it will be cleaned, gassed up, and ready to go before you arrive. You can come in knowing the salesperson to ask for, that the numbers all line up and spend very little time at the dealership to complete the transaction. Plus, we will offer up $35.00 for your time to take a spin in your new set of wheels. Stop by today!
Durocher Auto Sales Inc

4651 Route 9
Plattsburgh, NY 12901-6032